Roll: UX Research and Wireframes
Challenge
How can we build platform that is robust enough for all users (including teachers, students and parents)?

How do we encourage student engagement?

How do we encourage teachers to go beyond the free trial?
Research
What we wanted to learn:
What platforms are teachers currently using to supplement their lesson plans?

What are the pain points of the current version on the platform?

What tools do teacher currently use in lesson planning that could be added to the platform?
Research Methods
Facebook Survey

User Interviews

Stakeholders provided, interview, platform feedback and user summaries
The goal on my research was to better understand teacher needs and current tasks. This would provide insight into the types of features they would find most valuable.
Research Findings
TEACHERS
Ability to see an overview of all their classes, as well as each one individually

Ability to grade assignments in the platform

Ability to create a full lesson plan

Ability to communicate with students and parents
PARENTS
Ability to track their child's progress and grades

Ability to communicate with teachers




STUDENTS
View grades and track progress

Ask teacher questions privately

Review what was done in class

Communicate with classmates
Research Synthesis
USER PERSONAS
Teacher spend 12-14 hours a week grading assignments and lesson planning. They spend hours seeking teaching material in books, on line and from other teachers.
All these are hours are spent with no guarantees that students will even retain the information if it doesn't have real wold applications.
Imagine a platform that allows the teacher to:
Greatly reduce prep time

Easily provide quality, well organized material

Teach a topic that will impact the students lives as soon as they step out into the world.

Help students to critically analyze the media they are bombarded with on a daily basis.

All within one platform.
Given the project constraints, it was decided that only teacher needs would be considered at the moment.
I presented the stakeholders with the teacher centered features and recommended those that were both needed based on the research and quickest to implement.
I created three (3) IA documents to represent each of the paths the three (3) types of users would take.
Benefits of AI
Useful tool throughout the duration of the project.

The entire team was able to refer back to the AI to ensure major pages and functions were accounted for.

When I worked with graphic designer, it was helpful to indicate what pages we would each work on and in tracking overall progress.

Matching each node with a sketch also helped me work though areas that could be refined.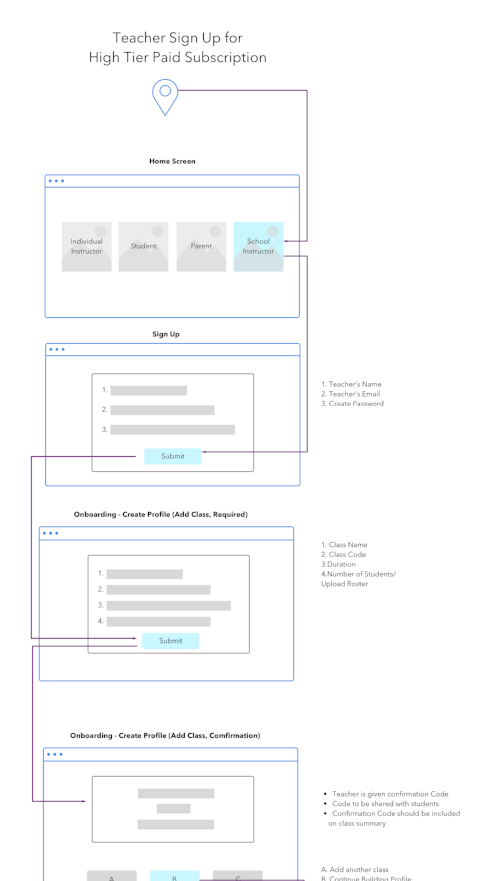 I created several user flows. One for each of type of user (Individual Teacher, School Teacher (high tier), Students and Parents). This gave the whole team a detailed flow for each user and quick snap shot of how the user would reach their goal. It also provided details regarding what information would be needed on each page.
WIREFRAMES
These low fidelity wireframes were a quick and easy way to:
Lay out each of the pages including the features we planned to include.

Provide a visual that I was able to use to discuss with the rest of the team to show the step by step of the features and how the user would flow through the process.
DESIGN PIVOT
The digital wireframes were initially created as the next step in the the design process. However, has time was limited, the team decided that time would be better spent moving forward with the page designs.
Below are the are the Teacher Profile Page and the Lesson Plan Page that were completed prior to the design pivot.
1. Things don't always go as planned. Although I made it clear to the stakeholders that one of my first steps would be to do a usability test and interview their current users, in the end, it wasn't possible. As a last resort, I did do a few informal interviews with teachers in my personal network which validated the additional features I suggested. I also wrote a script for the stakeholders as a guide to do their own interviews at a later date.
2. Using collaborative tools makes remote communicate easier. As I was creating my original Information Architecture document, it became apparent that my stakeholders preferred a format that was more collaborative. They wanted to be able to comment directly on the document I was creating. I decided to look for a solution and found Realtime Board. With RTB I was able to create the IA and allow the stakeholders and designer access to the document which made talking about it and making changes must easier.
Next Steps…
If there were more time in this project, one of my first priorities would be to build out features for the other users of the platform.