MY ROLE: UI/UX, WIREFRAMES, PROTOTYPES, USER TESTING
The Challenge
How do I empower the users to be able to make informed decisions?

How do I encourage knowledge based decisions with being "preachy"?

How do I code a landing page for my app?
RESEARCH
What we wanted to learn:
Are people concerned about ethics when they choose which food products to purchase?

How do people currently learn about the source of their food?

What are the issues that would be most important to the users?
Research Methods
User Interviews

Affinity Map
I wondered if other people were curious about the source of their food. Not only as a geographic concern but also and social or economic impact of the food we eat. According to my initial research people were really interested in this topic but had no way to easily learn more about their food.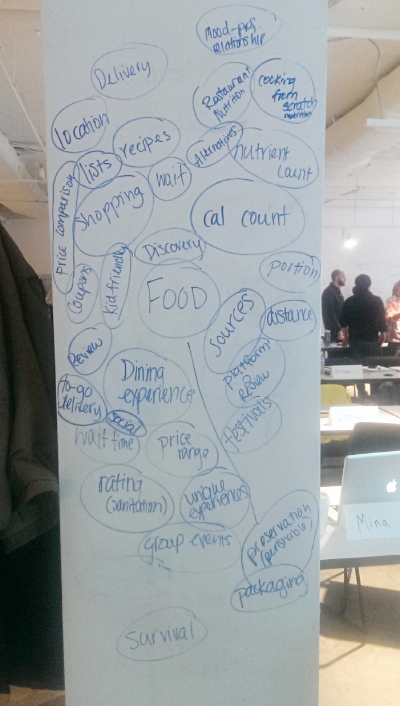 Research Findings
Affinity mapping revealed the many associations my team made when we hear the word "food". From this exercise I was able to choose the focus of my individual project, food source.

User Interviews revealed a number of issues that user are concerned about:

1. Geographical origin of the food as it relates to the carbon foot print

2. Child labor

3. Humane labor practices

4. Environmental Impact

4. GMO

5. Use of dangerous pesticides

Interest ranged from curious to concerned but most users did not have a way to quickly learn about the issues that were important to them, when making decisions about their food purchases.
RESEARCH SYNTHESIS
USER JOURNEY
This app is ideal for the user who cares about the environment, labour laws or GMO's for example. But, as much as they care they do not have the time or resources to learn everything about the source of their food. their food, but they want to. This led me to the User Story and Journey.
Thinking through the user flow helped me to understand the many tiny steps that are needed to take a user from start to finish. Creating the wireframe showed me the screens I would need and how the user might go through the app.
ANNOTATED PROTOTYPE
The prototyping process proved to be both fun and rewarding. I did both a paper prototype and also a clickable prototype in Marvel. It was very helpful because it was at this point that the users were able to give feedback on each of these steps regarding what aspects of the app were clear or unnecessary.
By observing the users interactions, I was able to see where users were having difficulty and make the adjustments.
For the second half of this project I created a landing page for my app. This entailed designing mockups, prototypes and actually using CSS/HTML to build the site. I was also able to concentrate on the visual design of the page which included the use of mood boards, font style and color selections.
I learned not to make assumptions. Some users did not care about the geographic origins of their food. They felt annoyed by the requirement to enter a parameter that didn't matter to them.

Keep technology considerations in a mind. A design idea may be good but it may not be technologically feasible.

Spend more time creating the initial survey. This would have given me an earlier understanding of my users needs.